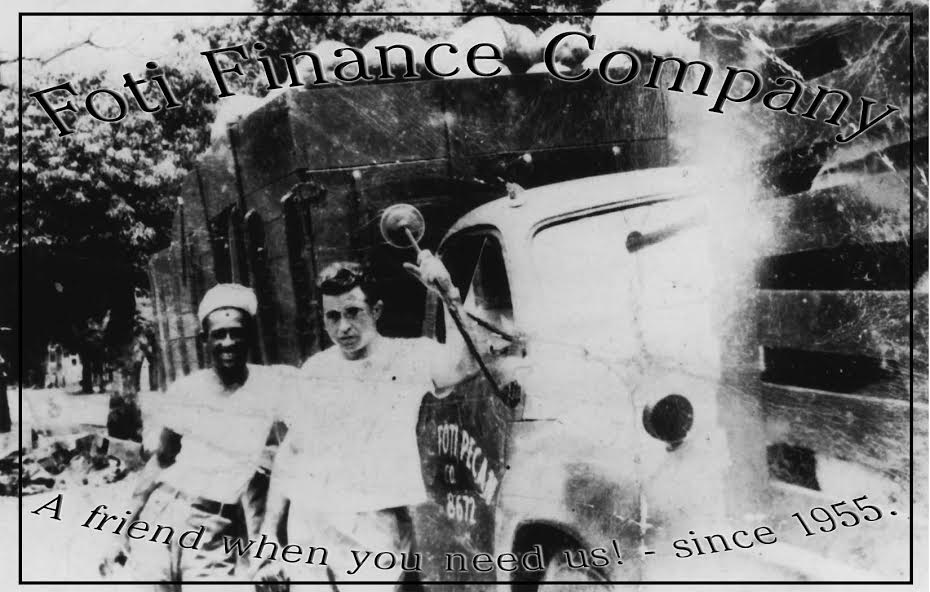 Dr. Dominic Foti came to Donaldsonville, Louisiana, from St. Martinville in the 1940s. When he arrived, he set up his dental practice in Donaldsonville across the street from the current Foti Financial Services home office. He was an entrepreneur from the beginning, doing not only dental work, but also buying and selling things like watermelons, scraps and pecans, etc. Part of that was lending to people who couldn't go and get money. He lent money to help local businesspeople and even worked out payment plans for people who came to have dental work done.
At that time, banks were the only place people could go to borrow money, but they had to prove that they didn't need the money in order to receive it, so Dominic Foti decided to start his own finance company. He got many of his friends (mostly doctors) and investors from Baton Rouge, Port Allen and Thibodeaux to invest in the company. In 1955, the first branch of Foti Finance Company was opened in Donaldsonville, Louisiana.
To try to keep competition from coming in, he started another finance company named Donaldsonville Finance, which is still a company today. Dr. Foti always prided himself on operating a company that was there for the people in the community.
In 1962, Anthony Grisaffe came to work for Dominic Foti as CEO of Foti Finance Company. Some years later in the 1970s, inflation and other things happened with the economy, creating a need for premium financing. Back then, Louisiana didn't have big chain insurance operations. Instead, there were smaller insurance companies. People needed financing because they couldn't pay their premiums up front. In 1979, Dominic Foti, with Anthony Grisaffe as CEO, started Insurance Limited (now Assurance LLC). They financed insurance premiums by paying the premiums in full and allowing the customers to pay them back monthly. Assurance was in operation until 2010 when it was bought out by Foti Premium Finance.
In 1992, Foti Finance Company instituted the profit-sharing program with branch managers. Managers would invest in their branch and be able to collect the profits, making them minority owners. This was, and still is, a very rewarding opportunity for the individuals working for the company.
Dominic Foti passed away in 1996. At that time, his wife Marie Foti, with the assistance of Anthony Grisaffe, took over the company. In 2001, they went from Foti Finance Company to Foti Financial Group, LLC. All of the finance companies turned to Foti Financial Services.
In 2004, Marie Foti passed away, so her daughter, Dr. Mica F. Landry, stepped in as the managing member of the company. She was assisted by her brother, Dr. Dominic Foti, as well as Anthony Grisaffe. In 2008, Mica's son, Paul T. Landry, IV came on board. Anthony Grisaffe retired in 2010 after serving as CEO for 48 years. Paul T. Landry IV took over as CEO in 2011.